The table with the green chairs, added to the post later.
Some choose, or have, greater simplicity than to have a patio of their own. Some other people are doing well just to have a roof over their heads and food, and are trying to figure out how to economize on that food. And then there's the homeless man I saw who wished me a good night.
At different times in my life, I've been at different places in the spectrum of choices and economy. But this is a patio story.
We recently bought a little house. And we have a deck. Our deck has no cover. It's open to the sun and rain, the winds and falling branches, the snow and hail. We don't have room to bring a set of furniture in to a garage or basement during harsh weather. So I puzzled over picking outdoor furniture.
I looked at plastic and wood, cast iron and steel. I even looked at a shiny aluminum set (which turned out to be just what they have at Planet Fitness). I looked at 8 person tables and little bistro tables.
I finally decided the best kind of table for our situation would be cast aluminum. It's sounds like it's heavy enough not to blow around in a storm (I checked the weight on the specific table), but that it shouldn't rust the same way that steel would.
But I didn't like the prices of the sets, even for seating four. I began to realize that what I really wanted most was the table. I wanted it for eating or writing, and also, if we ever have a power outage (if we can figure out how to use the old camp stove), we could cook outside. If we ever get a grill in the future, we will have a work surface near it.
So I ordered a cast aluminum table (on sale), which is about the size of a card table.
Then I found 4 of those simple plastic patio chairs...on clearance because, after all, it's July. (And yes, I know we don't want to put plastic into the environment, but after all, they had already made them. We picked them from a huge stack, sitting outside, mid-summer. And I help the environment other ways when I can...such as keeping my old rusty car out of the landfill for as long as possible.)
But the light chairs will blow around, right? Yes, they could, but when a storm threatens, I can tie them to the fence with bungee cords...or clean the inevitable dirt and cobwebs, and stack them inside.
I got four white chairs but I plan to paint them with Krylon spray paint, probably in hunters green to match the other two chairs and end table which I already have. But I will decide the color, after we receive the table.
And so, we will have seating for four, plus the two chairs we already had. In addition, when we need more seating, we can temporarily take our old card table outside, also, along with the two folding chairs that are still functional after all these years. Then we will be able to seat eight.
I spent about half of what I would have spent for a 4-person set and maybe a third of what I would have spent for a 6-person set. Best of all, I think I finally figured out what I really wanted. A sturdy, weather-resistant table... and just simple chairs that are easy to move around.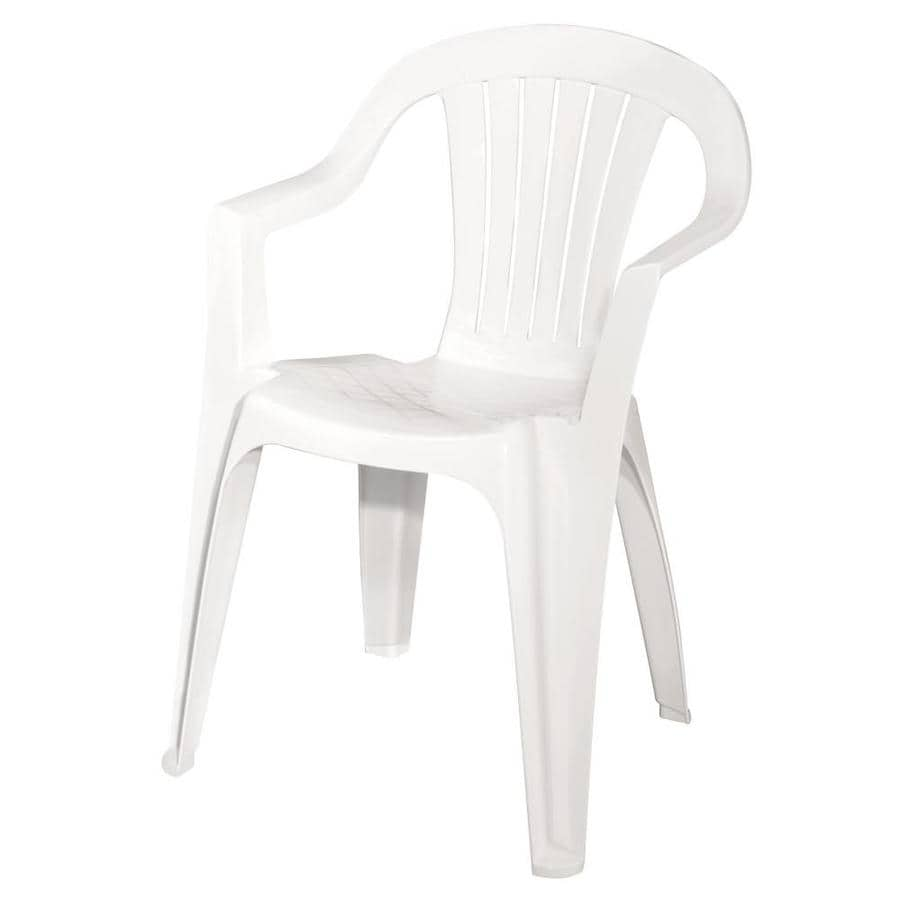 The preceding pictures were taken from Wayfair Darby Home Co., Nola Dining Table
and Lowe's Adams Mfg Corp Stackable Resin Dining Chair
What do you do when you want to spend less on a purchase? What's your most important consideration? Do you ever mix and match?